Total Solutions for Farlite™ Protected Buildings
Show that you are actively protecting people in your building from germs with your use of Farlite™ disinfection services with its UVPhasor™ generated UV light. Farlite™ provides autonomous UV light protection services that are monitored and adjusted to create the most effective UV Barrier that blocks germs.
Our system goes beyond hanging light fixtures with UV lamps. Our UVPhasor™ incorporates the most effective light technology supported by cloud monitored AI/IOT cloud monitoring that continuously adjusts your UVPhasors™ to your needs.
When you subscribe to Farlite™ Protection Services, we provide all required UVPhasors™, installation, software, monitoring, and servicing, including parts, labor and lamps. There are no unanticipated bills for keeping our services up to expectation.
Contact us now to request a proposal for your building.
Cloud Monitoring for UVPhasors™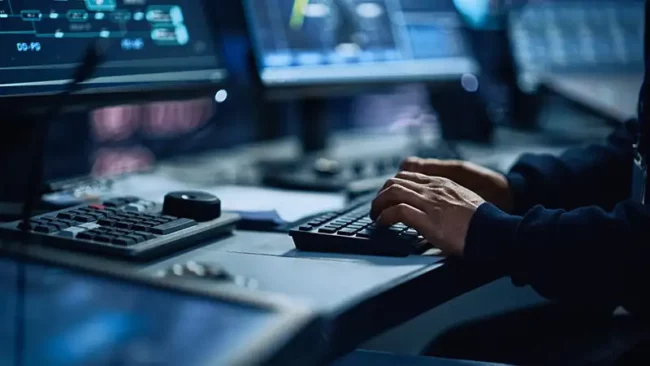 UVPhasors™ are germicidal UV lights controlled and backed up by sophisticated sensors reporting to cloud based artificial intelligence technology which automatically monitors and controls performance as well as UVPhasor™ health.
Our UVPhasors™ continuously monitor and interact with their environment to provide maximum protection from aerosolized germs. Our systems monitor a variety of conditions that affect germ transmission, including:
HVAC airspeeds that affect dosage
Temperature that affects air behavior
Humidity
UVC light intensity at every point in the Farlite™ UV Barrier
Power usage
Human presence near the UVPhasors™
Through cloud based AI monitoring of UVPhasor™ sensors, UVPhasors™ automatically make adjustments to effectively kill germs in the Farlite™ Barrier Zone created in upper air of your building. Our devices also report off-normal situations and device health, all stored in the cloud, to alert your support team who will fix any problem.
Cloud monitoring solutions for UVPhasors™ help inform service agents, ensure safety, predict future problems, and analyze activity over time. Our systems even predict when UVPhasors™ will need service and maintenance.
Get superior control and performance for your indoor air disinfection solutions. Choose the UVPhasor™ for disinfecting buildings of all types and sizes.
Your Space, Made Safe with Farlite™
The Farlite™ Service Solutions for UV Light Disinfection
Farlite™ is available as a Service because it is mission-critical and we want to be sure it works at its planned performance level. We built in extensive monitoring, safety risk detection, performance monitoring, potential part failure, excessive lamp degradation and power consumption. It is not easy to measure these conditions. We therefore included them in our service and built an AI Cloud platform to monitor them. It allows us to proactively address potential problems well in advance of a building owner or operator. We will contact customers to schedule fixes before they are aware of potential problems. We can also apply compensatory adjustments to make up performance pending completion of a service call. Because this is hard, we offer the Farlite™ Service Solution as an initial 5-Year Service that may be extended. It includes all the service and maintenance you need for your UVPhasors™ in addition to the continuous Cloud based monitoring and AI analysis of the system's performance. We make all of this information available to you, our customer, so you know we are on the job. Each solution design plan is completely customized to your building and requirements and includes all the services and products you might need – including replacement lamps. Our team also sets up service as needed based on UVPhasor™ reports. If your UVPhasor™ from Farlite™ detects or predicts an issue, we reach out to set up a convenient time to access your facility and provide maintenance or repair as needed based on the device's health status. You don't need to worry about a thing with our cloud monitoring and total service solution.
Our Farlite™ Service Solution includes:
Monitoring Cloud Platform
With our service solution, you get all the services you need to protect your UVPhasors™ ability to perform for you. Our service coverage takes care of issues and maintenance needed due to any defects as well as normal wear and tear on the devices.
Start protecting your building from airborne germs today.
Contact us now
to request a proposal and get Farlite™ Protected.