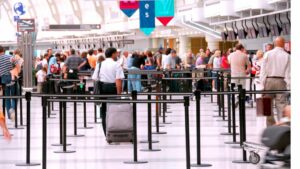 When it comes to air travel, safety is always the number one concern. That is why it is so critical to take measures that keep passengers safe from the dangers posed by airborne viruses, bacteria, and other pathogens in a high-traffic facility like an airport.
To help provide a greater level of security and peace of mind for both travelers and staff alike, indoor air disinfection solutions are essential. Leveraging the power of UV light, indoor air disinfection solutions are capable of neutralizing over 99% of harmful airborne pathogens, offering a robust and effective shield against infectious diseases in airport environments.
Today, we will discuss why this measure is critical for optimal passenger health in airports across the U.S., especially as we approach the busy holiday travel season. Learn more about our custom indoor air disinfection solutions—contact our team today.
Travelers May Take Germs from the Airport into Homes Across America
As the holiday season approaches, millions of Americans eagerly anticipate the chance to reunite with loved ones. Thanksgiving, Christmas, and New Years are some of the busiest travel periods of the year, with visiting friends and family being the single biggest reason for travel. However, amidst the hustle and bustle of airports and the excitement of travel, germs and viruses can easily spread.
Indoor air disinfection solutions can make a significant impact in airports, proactively helping to prevent the spread of illness by killing airborne pathogens. For passengers traveling through these airports, it means that the joy of the holidays is not overshadowed by sickness.
Almost 90% of U.S. Holiday Travelers Plan to Fly This Year
Traveling for the holidays can be stressful, but according to a recent survey by Hopper, flying is still the method of choice for the vast majority of Americans. In fact, 86% of those surveyed said they plan to take to the skies to reach their destination this holiday season. The convenience and speed of air travel make it a popular choice for holiday travelers. Ensuring their health while they pass through your airport means they are more likely to choose flying again for future trips.
U.S. Airlines Transport 2.5 Million Passengers Every Day
Airports are a dynamic hub of activity all year round. With more than 25,000 flights and 2.5 million passengers every day in the U.S. and even more during the holiday season, it is no small feat to keep everyone healthy. With travel back on the rise, the need to prioritize health and wellbeing in airports is more critical than ever. The overwhelming demand for air travel in the United States shows no signs of slowing down, which means that these airports will continue to be major transportation hubs for decades to come.
Strict security protocols and other measures are in place to help ensure passengers' safety. In terms of health, ongoing cleaning services strive to manage the disinfection of key areas such as bathrooms, but alternate measures are needed to combat germs in the air. Indoor air disinfection solutions take airport hygiene to an unprecedented level by actively combating airborne germs, requiring no additional labor from cleaning or maintenance staff, and facilitating a cleaner, safer environment without adding to daily operational costs.
The airports that handle the majority of passenger traffic in the U.S. are some of the largest and most technologically advanced in the world. These airports include:
Hartsfield-Jackson Atlanta International Airport: 45.4 million passengers annually

Dallas–Fort Worth International Airport: 35.3 million passengers annually

Denver International Airport: 33.8 million passengers annually

Chicago's O'Hare International Airport: 33.1 million passengers annually

Los Angeles International Airport: 32.3 million passengers annually
UV Light Indoor Air Disinfection Solutions Control the Spread of Airborne Germs
Airports are one of the busiest public places with the constant influx of travelers from different parts of the world. This makes it the ideal place for the spread of airborne pathogens. Thankfully, UV light indoor air disinfection solutions offer an effective control measure to curb the spread of these pathogens.
UV light, particularly UV-C, is highly effective at destroying pathogens by penetrating their cell walls and disrupting their DNA or RNA, which prevents them from replicating. This process, known as ultraviolet germicidal irradiation (UVGI), is a well-established method of disinfection that poses no harm to humans when properly installed and operated, making it an ideal solution for busy, high-traffic areas like airports.
This technology provides a flexible and sustainable disinfection solution for airports that work continuously and can be installed with ease. Our UV light disinfection devices are suspended from the ceiling and operate continuously and automatically 24/7 to destroy harmful pathogens. Its continuous operation means that it's always working to kill off harmful bacteria and viruses. With the growing concerns of global pandemics, UV light indoor air disinfection solutions offer a reliable protection measure for airports across the globe.
Reduce Germs in Indoor Air with Disinfection Solutions from Farlite
Farlite Solutions supplies customized, innovative indoor air disinfection solutions for airports across the U.S. Our comprehensive UV light solution uses state-of-the-art technology to ensure efficiency and efficacy.
With the increased awareness around the spread of airborne viruses, there has never been a better time for you to consider investing in indoor air disinfection for your airport. Contact us for a quote today.