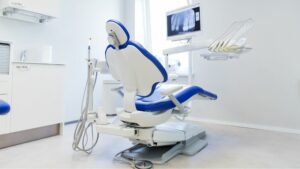 If you're considering how to best protect patients and staff in your dental office from airborne germs and pathogens, UV light could be the answer. UV light is one of the most effective indoor air disinfection solutions. It can eliminate harmful bacteria in air ducts and ventilation systems safely and quickly, so you know your space is thoroughly sterilized. 
In this post, we'll discuss the advantages of using indoor air disinfection to help keep your dental patients safe while maintaining a sterile working environment that reflects your dedication to health and safety.
In a dental office, maintaining clean and healthy indoor air is crucial for the overall well-being of staff and patients. UV indoor air disinfection solutions offer a comprehensive approach to indoor air quality and are an excellent investment in the health and safety of your dental practice. Protect everyone in your building with UV air disinfection – contact us today for pricing.
Maintaining Sanitization and Sterilization Standards in Your Dental Building
In a dental office, the importance of sanitation and sterilization cannot be overstated. Not only does proper sanitation maintain a clean and professional environment, it also helps to prevent the spread of infection and disease. You likely have a rigorous schedule and standards to ensure that all equipment, from dental tools to chairs and counters, are regularly sanitized and sterilized to ensure that patients are protected from any potential health risks. 
The CDC outlines the key health recommendations for dental offices, which include:
Develop and maintain an infection prevention program. 

Provide supplies necessary for adherence to the program.

Assign at least one individual trained in infection prevention to coordinate the program.

Develop and maintain written infection prevention policies and procedures.

Establish a system for detection and management of potentially infectious patients.
Consequently, air quality should follow the same protocols, as airborne pathogens can be easily transmitted between individuals. This can pose a real risk for infection from bacteria, viruses, and other pathogens. Many people don't realize that the HVAC systems we use to keep our indoor space comfortable might also increase the risk for disease transmission. The good news is that there are indoor air disinfection solutions that fight germs before they have a chance to get into the circulating air system, such as upper room UVC disinfection.
UV Indoor Air Disinfection Solutions Effectively Work to Kill Airborne Germs
Indoor air disinfection solutions have become increasingly important in maintaining a safe and healthy environment. With the ongoing threat of infectious diseases, many healthcare businesses have turned to UV indoor air disinfection systems as a proactive measure to ensure the safety of their employees and patients. The American Dental Association urges practicing dentists, dental auxiliaries and dental laboratories to keep up to date with scientific information regarding improvements in infection control.
UVPhasor technology from Farlite is highly effective in killing airborne germs and reducing the spread of infections. Our devices use UV light to provide indoor air disinfection. This process effectively neutralizes these germs, preventing them from reproducing and spreading throughout the air. The UV rays from our devices kill pathogens by damaging outer protein layers and DNA in the germs as they float through the air. For instance, UVPhasor is more than 99.9% effective against pathogens such as:
COVID

Influenza

Pneumonia

Strep

Black mold

Tuberculosis

Measles

Chicken pox
Our UVPhasors create a barrier of disinfecting light that never exposes humans to the UV rays, even in occupied spaces. This UV light disinfection barrier kills viruses and bacteria before they make it to air returns to enter the HVAC system, and potentially spread far throughout the building. 
Unlike traditional air filters that only capture air contaminants, UV disinfection systems can remove harmful airborne bacteria, viruses, and germs that traditional air filters may miss. By implementing this advanced technology, dental offices can create a safer environment for everyone that walks through their doors. Additionally, with highly efficient air-cleaning capabilities, this system can also help to increase the efficiency of HVAC systems and reduce energy consumption. 
Simple Installation and Long-Term Benefits with an Indoor Air Disinfection System
A UV indoor air disinfection system is a highly effective solution that can provide benefits to the entire building: from the front office to individual patient rooms.  
The UVPhasor system can be quickly and easily integrated into your building. It will continuously monitor your environment to provide maximum protection. Through cloud-based monitoring, sensors monitor and adjust for:
HVAC airspeeds 

Temperature

Humidity

UVC light intensity 

Power usage

Human presence nearby
The cost benefits of these systems are undeniable, providing a long-term solution that vastly improves the health and safety for everyone within the space. Overall, if you're contemplating installing an indoor air disinfection solution, consider the benefits and convenience of this highly efficient UV technology.
UV Indoor Air Disinfection Solutions from Farlite
A UV air disinfection system is a smart and efficient investment for any dental office and provides an added layer of protection for both employees and patients. FarLite Solutions proudly offers powerful UV disinfection solutions that can eliminate virtually all airborne contaminants found in a dental office. We utilize sophisticated technology to monitor for conditions that could affect disinfection effectiveness. We also provide device health monitoring so you have peace of mind you're always protected.
Contact us for a quote today and make sure your dental office is prepared to address any issue related to airborne germs.