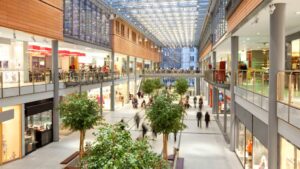 As the holidays draw closer, it's more important than ever to protect customers and maintain a healthy environment for everyone visiting your shopping mall. Fortunately, UV light disinfection is an effective way to sanitize large, open indoor spaces without using any harsh chemicals.
A simple, automated system that continually destroys airborne viruses, UV light disinfection provides a valuable service this holiday season that can help give your customers peace of mind while keeping them safe from potential health risks associated with germs and bacteria.
Contact us today to get a quote or to find out more about how our disinfection systems can work in your shopping center.
Tens of Thousands of Shopping Malls Across America – Set Yours Apart
Shopping malls are an integral part of the American landscape, dotting the country in almost every major city and town. The convenience they offer is unmatched, with everything from clothing and electronics to groceries and home goods under one roof. There are approximately 116,000 scattered across the United States. That's an impressive number, and it demonstrates the level of importance that shopping malls hold in the American economy and society.
In the sea of shopping malls across America, what could set your mall apart is its unparalleled commitment to health and safety. Through the integration of UV light disinfection systems, your mall can go above and beyond in prioritizing customer well-being. This innovative measure can reassure customers, setting the bar high for shopping experiences in the post-pandemic world.
Nearly 50% of Consumers Plan to Shop at the Mall This Holiday Season
It's no secret that the holidays are a major expense for many Americans, and they're not hesitant to whip out their wallets. According to the National Retail Federation, the average American spends $1,000 every Christmas season. Plus, statistics show that more than 49% of Gen Z consumers plan to do their shopping at the mall this holiday season.
As a shopping center, you want to make sure you're doing everything you can to draw in as many of those customers as possible. That's where promoting your commitment to their health and safety comes in. By letting your shoppers know that you're taking measures to keep them safe while they shop, you demonstrate that you're a business that cares about its customers. This can help build trust and loyalty, leading to repeat business.
UV Light Disinfection Kills over 99% of Airborne Pathogens in Indoor Spaces
Following the global pandemic, prioritizing health and safety has become essential. Shopping centers are no exception to this rule. That's why it is important to not only reduce the spread of viruses but also create an environment that instills confidence in shoppers when it comes to their safety.
One solution that can help attract shoppers to your mall is implementing UV light disinfection. This technology kills over 99% of airborne pathogens and offers an added layer of protection for shoppers as they browse the stores or dine in the food court.
UV light disinfection works by utilizing the germicidal effects of ultraviolet light. UV-C light disrupts the DNA or RNA of pathogens like bacteria, viruses, and mold. This disruption prevents them from multiplying, effectively deactivating them.
UV light disinfection systems continually sanitize the circulated air, providing an added layer of protection for visitors and staff. By optimizing health and safety measures, mall owners can reassure shoppers that their well-being is top of mind, ultimately resulting in more foot traffic and consumer spending.
Custom Indoor UV Light Disinfection Systems
Our team at Farlite Solutions can assess your facility and help you choose the most effective UV light disinfection option that fits your shopping mall's needs perfectly. Let our experts take the lead on customizing a unique solution to effectively decontaminate and treat harmful agents in the air. Contact us for a quote today!