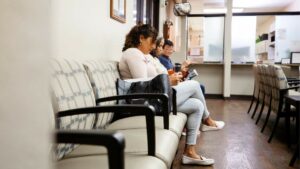 Do you feel like your medical office could benefit from better and quicker indoor air disinfection solutions? Are you looking to reduce the amount of time spent sanitizing surfaces, especially after seeing patients? If this sounds familiar, then UV indoor air disinfection solutions may be the answer for your medical facility. 
Ultraviolet (UV) light has been used for years in hospital settings to effectively target and kill bacteria. Now, individual healthcare facilities have begun to adopt this technology to help eliminate unseen bacteria and viruses that can lead to infection-spreading or present risks of cross-contamination. 
UV disinfection is an effective method that can continuously decontaminate the air in a medical office without the use of chemicals. Its efficacy has been proven through multiple trials as well as reliable data. Learn more about how ultraviolet light may be beneficial for your medical office, or contact us directly for a quote today.
UV Disinfection Has Significant Benefits for Medical Offices 
After the pandemic, awareness of airborne germs and bacteria in public spaces was heightened across the board. For medical offices, the expectation for limiting the spread of sickness is even higher. In response, many medical practitioners have been searching for efficient, cost-effective indoor air disinfection solutions.
Today, one of the most effective methods is the use of UV disinfection. UV disinfection utilizes ultraviolet light to destroy microorganisms such as bacteria, viruses, and fungi. This technology is crucial for medical offices because it helps to improve indoor air quality and reduce the risk of airborne diseases. As the world continues to face new health challenges, introducing UV disinfection into medical offices is a timely and essential measure.
Types of Microorganisms Destroyed by UV Light
UVC light contains short, powerful wavelengths that are able to kill 99.% of known germs and bacteria. This light disrupts the DNA of these microorganisms, preventing them from reproducing so that they die off without spreading. Our system uses stronger 254 nm light, killing germs more quickly than other 222 nm UV light devices.
Some of the types of viruses and bacteria that UV light is particularly effective against include:
COVID-19

Influenza

RSV

Tuberculosis

Measles

MERS
This light is also effective against fungi and mold spores, which could be a concern in older buildings or in regions that are hot and humid. Overall, utilizing UV disinfection can greatly improve the overall air quality of your medical office to keep all staff and patients safe.
UV Disinfection Can Help Curb the Spread of Sickness in a Medical Office
Medical offices are a hub of activity with a stream of patients coming in and out each day. Before the pandemic, Americans made nearly 900 million visits to office-based physicians with almost half of those visits made to primary care physicians. Unfortunately, this also means a high volume of germs and bacteria circulating the premises. Studies have found that the average desk space in an office can harbor up to 25,000 germs per square inch—and that's just on the surfaces. 
Airborne germs are more difficult to tackle, especially since airborne particles can spread germs from a cough or sneeze from one person to another. In medical offices, airborne viruses such as flu and COVID-19 are always a concern, especially as fall approaches with flu season in the wings. In 2022, flu activity nationwide was 10 times higher than in 2021. For medical offices dealing with sick patients, UV disinfection is an effective way to combat this issue and help keep everyone in the space healthy. By using UV-C light technology, medical offices can be a safer and cleaner place for all who enter. It's a smart investment in the health of everyone involved.
An Effective, Automated Indoor Air Disinfection Solution
Indoor air disinfection solutions have become a vital aspect of maintaining a clean and healthy environment in medical offices, especially during flu season. The Farlite UVPhasor system is an innovative solution that uses advanced ultraviolet technology to destroy harmful microorganisms such as bacteria, viruses, and mold in the air. The system works by emitting powerful UV-C radiation that penetrates the DNA of microorganisms and renders them inactive. 
Unlike traditional cleaning methods that only address surface contamination, the Farlite UVPhasor system provides comprehensive disinfection that reaches every corner of the room, ensuring a safer environment for patients and healthcare workers. The benefits of this system are numerous, including improved air quality, reduced risk of infections, and lower maintenance costs compared to other disinfection methods.
Installing a UV Disinfection System is a Long-Term Investment
When it comes to choosing an indoor air disinfection solution for your medical office, it is important to keep in mind that this is a long-term investment that will provide reliable and effective disinfection for years to come. Not all UV systems are created equal, so it is crucial to do your research and choose a reputable manufacturer. You should also consider factors like installation and maintenance costs, as well as the unique needs of your practice. By taking the time to carefully evaluate your options, you can make an informed decision that will benefit your patients and staff for years to come.
Indoor Air Disinfection Solutions from Farlite
Farlite Solutions' UV disinfection systems are a perfect solution for medical offices and other environments that demand rigorous and continuous cleaning and anti-bacterial measures. With our automated sensing capabilities and adjustable settings, users can rest assured knowing their medical environments are as sanitary as possible. Unlike surface-level sanitization, Farlite's upper air UV light systems are uninterrupted and comprehensive in reaching all airborne germs. In this way, promoting safety in medical facilities is easier than ever with the help of our solutions. Contact us for a quote today and see what Farlite Solutions can do for you.