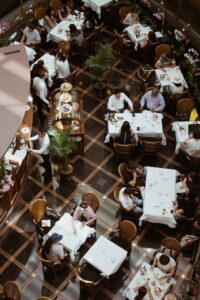 UV light disinfection is an effective tool for reducing airborne germ transmission in indoor areas. Restaurants and bars in particular can benefit from these technologies, as there's a high risk of disease transmission in these types of establishments. In this article, you'll learn what UV light disinfection is and why you need it in your restaurant. 
Become Farlite protected today to kill germs in the air you breathe. Contact us now for pricing. 
What is UV Light Disinfection?
UV light disinfection uses ultraviolet rays to kill germs. It's been used for decades to disinfect a variety of things that can potentially carry germs, including public water systems, medical tools, and hard surfaces. Now, UV disinfection can be used to disinfect the air in a space. 
With UV light disinfection, lights create a barrier zone for disinfecting the air inside of a space. Our UVPhasors create a kill zone in the upper air, away from anyone inside the building. In this zone, airborne germs get a lethal dose of UVC radiation. This attacks protective layers and DNA in germs of all kinds, including viruses and bacteria, which inactivates them and makes them unable to infect people in the building. The UVPhasor is more than 99.9% effective against COVID, MRSA, and VRE, as well as many other dangerous pathogens. 
Because of this, it's becoming increasingly popular to install UV light disinfection devices in commercial buildings, since they are more prone to disease transmission and high amounts of traffic. Restaurants and bars can benefit in many ways from our UVPhasor technology. 
Why Do Restaurants Need UV Light Disinfection?
Practically every commercial building can benefit from UV disinfection to kill germs that float in the air. Restaurants and bars may benefit from UV light disinfection in many ways. Many restaurant owners are looking for ways to reduce risks in their buildings to help both customers and staff feel safe from germs like bacteria and viruses. Ensuring that everyone feels comfortable in your restaurant is important for your business. 
There are several reasons why you should consider installing UVPhasors in your restaurant. For one, restaurants can be a hotspot for many airborne germs. This can make people feel less safe in your building and can also make people sick. 
Restaurants are a High Risk Area for Germ Transmission
Studies have found that restaurants are a risk for COVID transmission. This is why bars and restaurants were ordered to shut down in many areas during the beginning of the COVID-19 pandemic. There may be a few reasons for this. 
For one, they can hold a lot of people at any one time. This creates a risk for sharing germs. If one or more people are infected with an airborne disease, every time they breathe, they're releasing germs into the air. With more people, you have more potential germ sources and more potential hosts for germs who might get sick. 
Also, in many cases people may be talking very loudly because of ambient noise levels. Research has found that speaking loudly releases more germ particles than speaking at a normal level or remaining silent. Obviously, people go to restaurants for more than just the food – they often want to have a good conversation with their dinner partners. So, you may be dealing with more germs than places where people tend to stay more silent, like a grocery store. 
Another reason that restaurants can be a hot spot for germs is that people also tend to linger in these spaces. In order to get sick, you need to have enough germ particles to become ill. Prolonged exposure tends to increase the risk of catching a disease. In most restaurants and bars, people tend to stay for a couple of hours to enjoy the dining experience. 
How Airborne Germs Can Quickly Affect Patrons and Staff
Some of the most transmissible diseases in the world spread through the air. Germs like COVID-19, influenza, and measles all spread through the air and can infect a lot of people at a time. This is particularly true in places where people congregate, like restaurants. After all, a restaurant can see hundreds or even thousands of patrons per day. Plus, there are a number of front of house and back of house staff to keep the place running. This isn't to mention quick visitors like delivery personnel for food and drink orders. Basically, there are a lot of people that go through a popular restaurant on a daily basis. 
Since airborne germs can spread quickly, this is a serious concern. It can make many customers sick at any given time. Additionally, you may notice high rates of absenteeism from staff because of illnesses caught on the job. UV light disinfection can help reduce these risks by killing many of the germs in the air. 
UV Light Disinfection Helps Kill Germs in the Building
Part of keeping your restaurant safe and healthy is to understand how to kill germs before they infect people. This means disinfecting high touch surfaces, following safe food handling practices, and making sure staff don't come in sick. UV light disinfection can be another layer of protection for your restaurant. There are many ways to kill germs on surfaces and in food, but there are few indoor air disinfection solutions that are effective. UV lights offer an effective tool that can kill germs in the air of your restaurant. 
Using UV Light Disinfection for Killing Germs in the Air in Back of House and Front of House
Using UVPhasors throughout your building can help kill germs before they can make people sick. This is key for both front of house and back of house areas. In the front of house, UVC disinfection can help keep customers, waiters, bussers, and bartenders safe from airborne germs. It's equally important to kill germs in the air of back of house areas where kitchen staff prep food and drinks. Not only is this key because of absenteeism, but it can also reduce the risk of people becoming infected with germs and prepping food before they're symptomatic. Our team can recommend the number of UVPhasor devices you need for your building based on a thorough site evaluation so you have peace of mind you get effective air disinfection everywhere in your building. 
What Does UVC Disinfection Kill?
One thing to note is that UV light disinfection is effective against many types of pathogens. Since the light attacks things like germ DNA and protective coatings, it can kill a variety of germs, including drug-resistant strains. Some common airborne germs found in restaurants that UVPhasor can kill include COVID-19, influenza, RSV, and rhinovirus. 
Indoor Air Disinfection Solutions from Farlite
Start protecting your customers and staff with UV light disinfection solutions from Farlite. Our UVPhasor technology offers an advanced solution to disinfect the air inside your building. In addition to proven technology for UV disinfection, they also include monitoring devices for everything from device health to humidity and temperatures to determine when it may be harder to kill germs in the air. Get a safer, healthier building by becoming Farlite Protected. Contact us now for a custom estimate.